Good afternoon everyone!! It's a lovely perfect rainy day over here today! It's finally cold and great for a little scrapping time, isn't it? Oh, you might be wondering, cold? I forgot to say it's autumn where I live
Ok, I won't hold you from knowing last week's winners anymore. With no further ado here are my picks:
I chose TREASURED KEEPSAKE because of its journaling. I loved it! The stitches, the blending  and the brushes are just marvelous.
and today's random pick was A MOMENT IN TIME. I loved the big clock behind everything!
Congrats ladies!! Please email us at digidares at gmail dot com to claim your prizes! Thanks again to all the participants!!
__________________________________________________________________________________
Our sponsor this week is the AWESOME and TALENTED Amy Wolff (Don't tell but I'm on her ct and she totally rocks my socks!! *giggle*) . CLICK HERE to know her a little bit more
________________________________________________________________________________________
Now today's dare:
Can you believe July is just around the corner? Where have the months gone? What really worries me is the fact I haven´t done half of the things I was supposed to do this year!!! Time is passing by too quickly for my taste 
 But let´s talk about what really matters now, this week´s dare. I´m gonna start by asking you: Do you have a celebrity crush? Well, I do and he is Adam Levine. Thanks to my friend Carly (snaggletooth75) I can´t stop listening to Maroon 5´s songs. I even bought 2 CDs from them!! I´m feeling like I was back to my teen years when I used to keep magazine ads from my favourite rock band or actor. It was thinking of this that I came up with my dare today. What I want you to do is very simple, I want you to scrap about your celebrity crush not the one you have today though, the one you used to have when you were a teenager. It can be anyone, from rock band players to movie actors. Take a trip back to your past and show us what your teen years used to be like listening to your favourite band or watching your favourite actor´s movie!!!!
PS.: if you didn´t have a celebrity crush on your past you can talk about someone else´s.
Now the Dare flair:
A photo of your celebrity crush is required. The quantity is up to you.
Use at least one frame, 2 buttons, a heart shape and 1 paint somewhere on your page.
You must have a patterned paper in your background. You can have other papers but the patterned needs to be the main one.
The title must have the minimum of 2 alphas. Make it BIG.
Journaling is a must.
And finally, have fun!!
Here are some inspiration from the Dare team for you to get started
from Ulla-May
Credits: Modern Patio by Amy Wolff, Speech by Paula Kesselring, I love Rock and Roll by Little Butterfly Wings, Urban Madness by Ida, Weathered Journalers by Ida, Boys Only by Jazzmin Designs, Squeeze by creashens, Gralpha 1 by Birgit
from Dalis:
credits: Heart Light by Allison Pennington, Luckiness Decorated Polaroids by Allison Pennington, A very Small Alpha by Allison Pennington, Also A very Small Alpha by Allison Pennington, An Additional Very Small Alpha by Allison Pennington, the way we were(n't) Vol. 8 by Allison Pennington, Manufactured metal alpha by Allison Pennington, All my Heart by Allison Pennington, Dandy Doodled Fat Alpha by Allison Pennington.
from Tracy: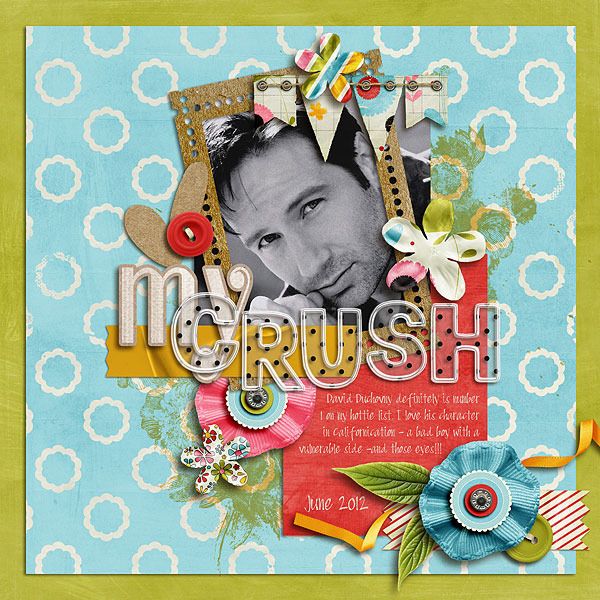 Credits: Captivating 2012 May Full Kit by Captivated Visions, Kraft Alpha by Shawna Clingerman, font is DJB Scruffy Angel
from Deborah
credits: frame, tag, ribbon & paper, by Amy Wolff, sequin stitches & paper heart, by Rachel Young, pretty posies & buttons, by Karah Fredricks, love letters & from the trash alphas, by Valorie Wibbons, paint splatter, by Tracie Stroud, memory clips cluster, by BrownieScraps
John Travolta photo, courtesy www fonts, LilyUPC & Mistral
from Kristin
Life Changing by Captivated Visions, Itty Bitty Alpha by Libby Pritchett, Paintity Doo Dah Alpha by Traci Reed (retired), DJB Sandra Dee font by Darcy Baldwin
from Cynthia
Credits: Stay there, Cowpoke, and Bountiful Buttons by Karah Fredricks, Cloud Nine and We Are in Love by Elise's Pieces, Half Cuts by Amy Wolff, Mixed Messages and Retro Camera Effects Frame Set by Sugarplum Paperie
from Christina
Credits: Paula Kesselring – Speech papers and elements; Captivated Visions – Captivated 2010 January, Captivated 2012 January Overlays; Allison Pennington – Social Butterfly (frame), Blah Blah Blah elements (buttons) and alpha (numbers); Micheline Martin – White Washed Alpha; Megan Turnidge – Wild Child Alpha.
 from Heather
Credits: Quotiety by Captivated Visions; A Fine Line Frames by Nicole Seitler; Beyond Wonderland alpha by SherrieJD; background paper from Recess by Basic Grey; heart from Key to my Heart by Sahlin Studio; paint from Sprinkles V5 by Valorie Wibbens; DJB Fonts: I Love Me Some Tracy by Darcy Baldwin
from Barb
Credits: Cream paper: Pink Sugar kit by Amy Wolff; Other papers, rope, clear tapes, playing cards, paint splats: Groovy Kind of Love and In A World of my Own kits by Emily Merritt; Bubbles: Soap Bubbles by Lili; Messy Stitching by Emily Merritt; Paper Template (for clipping mask, altered) by Emily Merritt; Striped Alpha: Fun Stripes Alpha by Lili; Font: Rhino Dino; Grungy edge by Nancie Rowe Janitz
From me (Val)
credits: I love rock and roll by Little Butterfly Wings, Wintersong , ring around the alpha and Damaged papers by Amy Wolff, Rock On! Markerific alpha and Grafitti Spray – Valentine by CD Muckosky, Splatteric vol. 17 by Karah Fredricks, Stick arounds 2 by Lauren Reid (retired), Alpha scraps by Jacque Larsen
From Paula:



Credits: Background Paper – Wild Child Animal Prints by Elise's Pieces
Pencil Doodles, plates and Frames by Paula Kesselring (A Mothers Love and Is It too Damage?); Doodle Quotes by Jacque Larsen; Alpha Kim Jensen (Perforated Alpha)
Alpha by Gina Miller (Rubber Stamp Alpha); Glitter and Paint Strokes by Amy Wolff (Artiste Misc)
You have until 10:00 p.m. (EST) next Thursday (June 15th) to post a link to your layout in the comments here to have a chance to win one of this week's prizes! Happy scrapping!